Recognizing Employee Excellence
Amid all of the unpredictability in the world today, the Sentinel team continues to deliver high-quality customer service. We are proud of the work that every employee does to help customers succeed. We are especially proud of those listed below, the highest of high-achievers on our team.
Laura Dennison, Lead Case Manager
Canyon Co. ID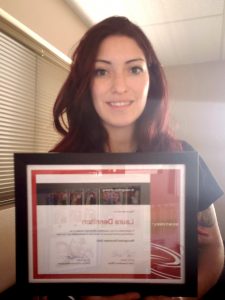 Paula Guardado, Director of Branch Operations
National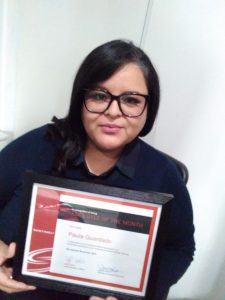 How has your career grown since starting at the company?
I started with Sentinel in May of 2006 as a receptionist at the Bellflower Office. I was only in the AA position for 3 months before I was offered a Case Manager position. In 2007 I was promoted to Branch Manager of the Bellflower Office.  In 2010 the Bellflower office moved to Compton. From there I moved to the Downtown Los Angeles Office when it opened in 2011. In 2015 I was promoted to the Los Angeles County Regional Operations Manager, in that position I had oversight of the Compton, Walnut, Lancaster/Enrollment Department, Downtown LA offices and worked with the LA jail and juvenile techs. As of March 2018, I have been at my current role, Director of Branch Operations.
What is the favorite part about working for Sentinel?
The Sentinel team.
How do you define success?
Success is learning something new each day. It is meeting expectations, reaching goals and being able to help others meet their goals/expectations. Success is truly enjoying what you do.  Knowing that life is filled with abundance and being grateful for health, family, and friends in your life.  Success is understanding that practice will not make you perfect but will help you be better. 
What advice do you have for prospective Sentinel candidates?
Always look to learning more even if it's not part of your job description.  Be adaptable to the constant changes, never stop learning. 
Any favorite line from a movie?
I have so many, but this one I feel fits with what I like to do for fun:
"Sometimes there's so much beauty in the world, I feel like I can't take it, and my heart is just going to cave in." -Ricky Fitts, American Beauty
Do you have a favorite quote?
Spanish: "Pies para qué los quiero si tengo alas para volar" English: "Feet, what do I need them for. If I have wings to fly." ― Frida Kahlo.
What do you like to do for fun?
I look forward to weekend mornings hikes at Griffith Park.  I try to start by 6:00 am so that I am at the top by the time the sun rises and enjoy the view.  I also do evening hikes near the beach to see the sunset. Visit wineries in Temecula and Valle de Guadalupe.
Tell us three things most people don't know about you. (Two true & one false)
I have 5 dogs.
I was born in Mexico.
I am planning to relocate to a different state.
If you were an animal what would you be?
A hummingbird
Brandon Gurvin, Hardware Deployment and Inventory Manager
National
Johana Garcia, Director of Quality Assurance
Anaheim, California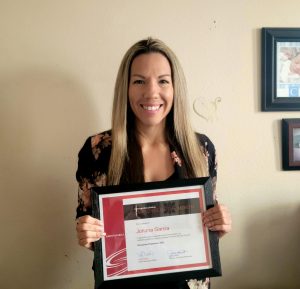 Myriam Montalvo-Sunga, Help Desk Supervisor
Anaheim, California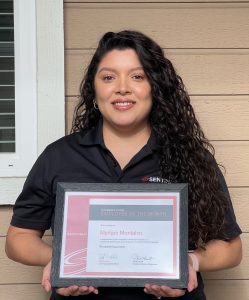 How has your career grown since starting at the company?
I started my career in Sentinel back in 2016 as a Monitoring Center Operator. I quickly leveled up to a Level III operator status once the Tier Career Progression model was launched, then moved into the Help Desk Lead position in 2018. After spending some time in this role, I gained the confidence to ultimately take on the Help Desk Supervisor role at the beginning of this year.
What is the favorite part about working for Sentinel?
My favorite part about working for Sentinel is the teamwork and collaboration I experience on a daily basis. We have a great team that motivates and supports one another to complete our work and meet our goals.
How do you define success?
I define success as achieving goals I have set for myself and knowing that my contributions have positively impacted our team. Beyond this, I also define success as being able to learn something new every day.
What advice do you have for prospective Sentinel candidates?
Be confident. Lead by example. Take initiative and step outside of your comfort zone.
Do you have a favorite quote?
"Every minute is a chance to change the world." – Dolores Huerta
What do you like to do for fun?
I enjoy spending time with friends and family, as well as going to Disneyland and Dodger games when possible.
Tell us three things most people don't know about you. (Two true & one false)
I played 3 instruments in high school. 
I skipped a grade in school. 
I am left-handed. 
If you were an animal what would you be?
A dog.
Brian Oropeza, Production Manager
Anaheim, California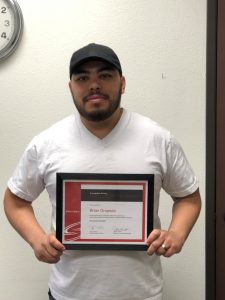 Tyler Inguanzo, Monitoring Center Trainer
Anaheim, California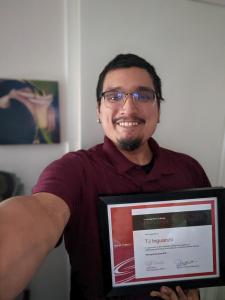 Allyson Tran, Purchasing Coordinator
Anaheim, California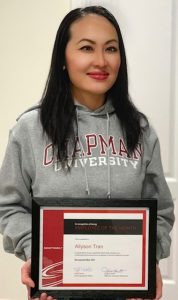 Cory Davini, Operations Support Specialist
Anaheim, California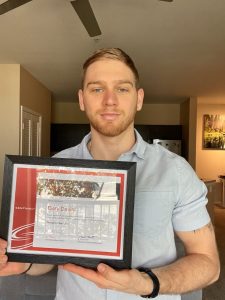 Ronald Grant, Program Manager
Harris County, Texas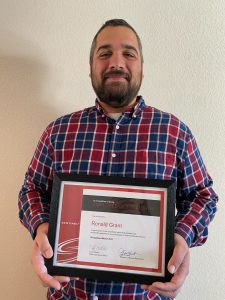 Bill Hecker, Regional Account Manager
Western Region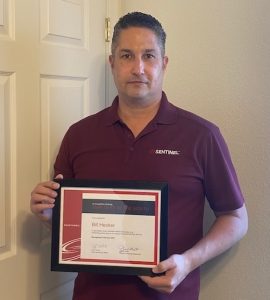 Cecilia Salcido, User Acceptance Tester
Ladera Ranch, California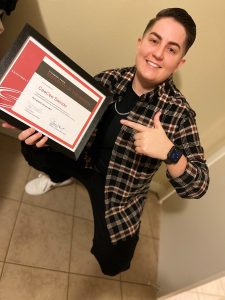 Christy Suazo, National Service Center Director
Anaheim, California
Christy delivered on several key fronts in 2020.  She managed through change throughout the pandemic with our Work from Home strategy for Sentinel's Monitoring Center.  She developed and implemented real time policies to ensure that we can manage remotely and provided the coaching necessary to accomplish top notch customer service.  Throughout the year, Christy proactively signed up for online classes to build her knowledge base and ensure she was equipped to lead her team. In doing so, she maintained service excellence for our customer base by ensuring this transition was seamless.
In her own words:
"My favorite part about working for Sentinel is the opportunity the company provides to seek talent within. Nothing pleases me more than helping entry level employees move into leadership roles".
Bryan Morales, Training Specialist
Anaheim, California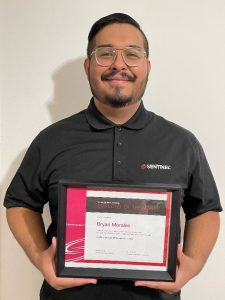 Bryan Morales began his employment with Sentinel June 2017 as a Monitoring Center Operator.  He was promoted to Monitoring Center Supervisor in 2019. Bryan's knowledge made him a perfect candidate for his promotion to Training Specialist April, 2020.
Bryan is frequently sought after for his expertise in remote learning and he displays a high ability to learn rapidly and adapt quickly to changing situations especially during 2020. His accomplishments include:
Producing high quality, Sentinel branded training videos.
Developed and delivered Supervisor On-Boarding Training.
Launched new video sharing website for customers on Vimeo.
Building a companywide LMS solution.
Developed and delivered remote new hire training including new hire classes for Monitoring Operations.
Improved TCP Level 2 Exam. Added critical thinking questions.
Revised many of our training materials to be more detailed and concise for both employees and customers
In his own words:
"I love working for Sentinel because of the professional growth that it has given me. I started working in the Monitoring Center and have taken every opportunity to grow within the company. I especially enjoy my current role as Training Specialist because I can meet all our new employees and provide them the necessary knowledge and tools to succeed with Sentinel. I also value meeting all of our customers and meeting the people that help keep our communities safe across the country."
Nate Osborn, Equipment Technician
Fairfield, Ohio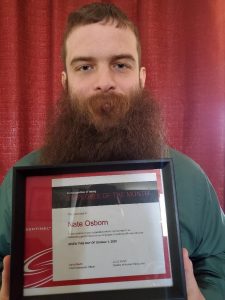 Nate joined the Sentinel team April of 2019. He is a professional and he is not afraid to roll up his sleeves and take on a new task. He is an effective communicator and works well with anyone that he meets. Nate is probably one of the most personable and friendly employees that I have worked with. He is a good listener and genuinely cares about the people that he encounters. He has the best interest of Sentinel's reputation at the forefront of everything that he does.
In his own words:
"I think what I enjoy the most about working for Sentinel is, working alongside law enforcement, helping them actively track those running has been surprisingly rewarding"!
Brenda Sanchez, Case Manager
Caldwell, Idaho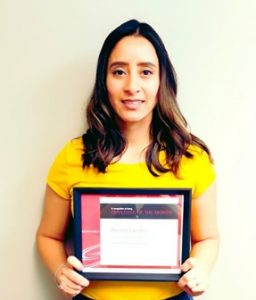 Brenda returned to Sentinel March 2020 after her departure in 2017. She was one of the original Caldwell case managers when the branch opened in 2014.
Brenda is an extremely dedicated employee who takes pride in a well-run office and satisfied customer.  She has helped develop processes to efficiently manage a caseload of 150 participants between two employees, while managing collections and inventory to maximize revenue and minimize costs.  Brenda has led several new projects in 2020, to include the addition of a new work release sub-agency (and addition of 40-50 participants to the caseload), upgrade to the OM500, and introduction of the DNA mobile app and field contact tool.
In her own words:
"I have a great team I can rely on and is supportive. The best thing about working for Sentinel is helping people who need it the most and seeing them succeed successfully".
Vanessa Rosales, Case Manager
Riverside, California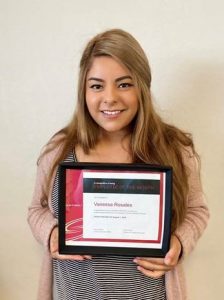 Vanessa joined Sentinel July 2016 as a Monitoring Center employee. She transferred to our Riverside office June 2019. The knowledge that she brought with her from the Monitoring Center is valuable and has helped with her training new members of the Riverside staff and off-site employees as well.
Vanessa knows that customer service is a big part of the office success.  She is always very polite to all those that come into our office and is always willing to help in whatever is needed for the office to reach our goals, from simply cleaning equipment, making calls to participants to collect payments, or managing the front desk.
In her own words:
"What I enjoy most about my position with Sentinel as a Case Manager is being able to interact with our customers and clients on a day-to-day basis and assisting them to successfully complete the program".
Andre' ana Mitchell, Field Technician
San Diego, California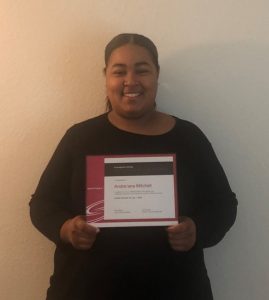 Andre'ana began her employment with Sentinel November of 2017.
Tanya Allison, Branch Manager said "Andre 'ana is dedicated to assisting Sentinel's San Diego office, ensuring equipment is shipped on time and making sure our local devices are working properly.  She is often going out in the field searching for equipment when an offender has absconded. Andre 'ana ensures we are providing accurate information to our clients. She is my go-to person when it comes to knowing the equipment and location of devices".
She has assisted with the transition of San Diego Sheriff and San Diego Probation from OM 210 to OM 400 as well as our transition from Soberlink to the BART devices.
In her own words:
"What I like about working for Sentinel is that I get to interact with a lot of interesting people and travel from different sites around San Diego County".
Rose Wilson, Case Manager
Vancouver, WA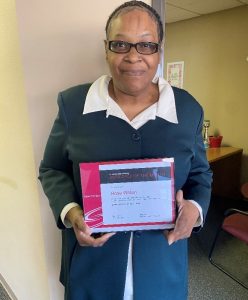 Rose began her employment with Sentinel July of 2019.
"Rose takes pride in her work and she loves her job! She is here rain or shine" said Branch Manager Britnee Olivas.
Management is impressed by Rose's hard work, attention to detail and the pride she takes in her job and representing Sentinel.  Rose has been instrumental in garnering the customer's confidence in the branch operations since she joined Sentinel last year.
In her own words:
"I love working for Sentinel because it deals with the courts and law enforcement which is my passion".
Allyson Tran, Procurement Specialist
Anaheim, CA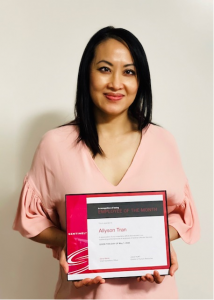 Allyson joined the Sentinel team August 2019. Her career includes 12 years of purchasing experience and most recently making a positive impact during a pandemic. Our essential workers needed a continuous supply of personal protective equipment, but it was not as easy as placing an Office Depot order. Supplies were not available due to first responder demands. Allyson was creative and left no stone unturned to find disinfectants, wipes, hand sanitizers, gloves, masks, and the precious Toilet Paper!  We appreciate all your efforts to keep our employees protected!
In her own words:
 "Because in a world where you can be anything, start with being kind. Everything else will fall into place." 
John Fisher, Equipment Installer
18th Judicial District, Florida
John is commended for his performance and many of his ideas of been implemented by the customer.  He is a one-man operation and is responsible for jail releases at any hour. John has trained the agency and local law enforcement on DNA and has become a valuable asset to both Sentinel and our 18th Judicial Circuit customer.
In his own words:
"I enjoy working for Sentinel as every day and interaction is a different experience."
Britnee Olivas, Branch Manager
Vancouver, WA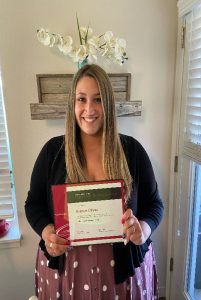 Britneed joined the Sentinel team June of 2019 and immediately reorganized the local office to achieve more efficient operations. She worked late hours to prepare the office for ISO audit and passed with flying colors! In the short time that Britnee has been with Sentinel she has proven that she is an asset to the Vancouver operation. Customers have been very complimentary of the service provided.
In her own words:
"My favorite part about working for Sentinel is helping guide our participants towards a better path and future." 
Myriam Montalvo, Help Desk Lead
Anaheim, CA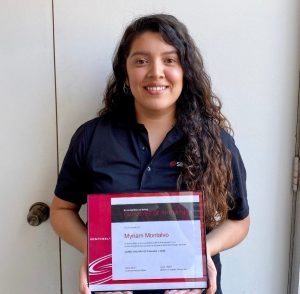 Myriam joined the Sentinel team February 2016 and she received the most customer accolades in 2019 for her knowledge and willingness to help. She is not afraid to take on extra projects, working on DNA migrations and helping with the launch of orders into the DNA application. Myriam dedicates her time to help others in the Monitoring Center to achieve their goals.
In her own words:
"The most enjoyable part of working for Sentinel is the teamwork. I appreciate being a part of a knowledgeable team that is supportive and that pushes me to challenge myself often."
Angela Nash, Human Resource Representative
Anaheim, CA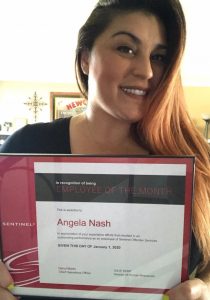 Angela joined the Sentinel Accounting team August of 2015 as our Payroll Specialist. We recognized her great people skills and excellent ADP knowledge and asked her to join the Human Resource team January 2019 and she has been a great addition to Sentinel's HR team.
Angela is being recognized for the Employee of the Month award for her diligent work facilitating Sentinel's Sexual Harassment training and our 2019 Annual Performance Evaluations.
Thank you, Angela, for always being there for our employees!
In her own words:
"I have always enjoyed working with people and Sentinel has given me the opportunity to work with employees in a way that I am grateful for. I like to help people and make a difference whenever I can. "
Employee of the Year 2019: John Gonzalez
John Gonzalez made a positive impact across many Sentinel teams throughout the year. His contributions include:
Taking over as Floor Trainer in the National Monitoring Center to help improve the skills of the team
Going onsite to Miami, FL to assist with system and software support in critical situations
Making several trips to San Francisco, CA to deliver training and help ensure the new implementation was successful
Spending time in Charlotte, NC to support cross-location inventory balancing to meet critical equipment needs
Teaming up with Equipment Services to ensure equipment made its way quickly in and back out to customers
Working as needed, day or night, during key shifts to make sure the National Monitoring Center had adequate coverage
In his own words:
Sentinel has provided me with a plethora of experiences. I have learned that if you come into a situation with an open mind you never know the outcome. It may seem negative at first but if you push through to the positive, you learn a lot about yourself.
Sentinel helps make communities safer, supporting government officials and offenders. I learn a lot about participants' lives and how we help them transition back into the community. Being a trainer gives me a chance to influence Monitoring Center operators to be respectful and positive in interactions with clients, helping improve societal behaviors.
I aspire to do great things in life. One day I plan to own a successful business.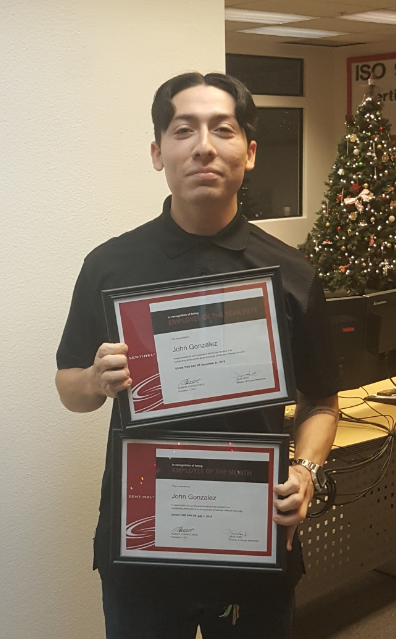 (December award is employee of the year) 
Marsella Amador, Case Manager
Riverside, California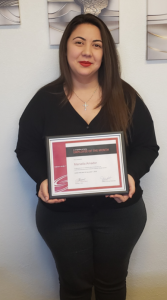 Marsella has made important contributions to the success of our fast-growing Riverside office. Originally hired as office manager, she is now lead case manager and leads a team of four. She is been effective at managing inventory and recovering lost items. Marsella took the initiative to help decorate the Riverside office, creating one of the most aesthetically pleasing Sentinel branch offices in the country.
In her own words:
Sentinel has taught me a customer service attitude. People don't always have a great attitude but I have learned how to diffuse situations when they escalate. I really enjoy working for Sentinel because I get to see a person change from the time they come in to the time they finish a program.
I love spending time with my son, going to the mall or Disneyland or just staying home to watch movies. I am a kid at heart and even have a tattoo sleeve of Disney characters!
Jessica Hasselbar
San Diego, California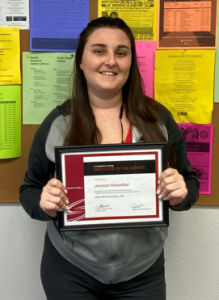 Jessica was recognized for her excellent work with our San Francisco branch office.
In her own words:
My team makes working at Sentinel amazing. We have a close bond and support each other every day on the job and outside of the job. 
Outside of work I spend time with family and friends, with my dog and I travel as much as possible. Listening to music while driving on the open road is one of my favorite things to do lately. 
Antonio Enciso, Help Desk Technician
Anaheim, California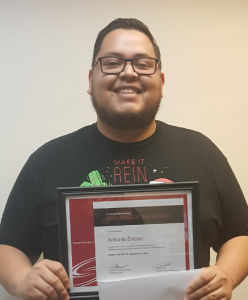 Antonio didn't hesitate to go beyond his normal role and travel onsite to support the San Francisco office start-up. He joined Sentinel in 2016 as an operator in the Monitoring Center and was promoted to Help Desk Technician in 2019, where he has been a great leader on the team.
In his own words:
Working for Sentinel allows for personal growth, whether it is expanding product knowledge or improving my leadership skills. The teamwork at Sentinel is the most enjoyable aspect of working here.
Outside of work I enjoy going to Disneyland my kids and 'hunting' for Funko Pops to add to my collection (ask him about it).
Andrew Anderson, Telecom Manager
Anaheim, California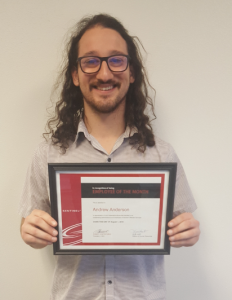 Andrew went above and beyond and was onsite to help with start-up of the new San Francisco branch office. His Sentinel career started in the Monitoring Center weekend graveyard shift in 2016. Through diligent, hard work he has progressed through several roles and is now Sentinel's Telecom Manager. This allows him to help both customers and fellow employees across the company. He always delivers excellent service.
In his own words:
"Outside of work I'm likely smoking meat on my Traeger or traveling with my girlfriend to hit the slopes snowboarding whenever/wherever there's snow. This year the big destination goal is Canada, Utah, or Chile."
John Gonzalez, Monitoring Center
Anaheim, California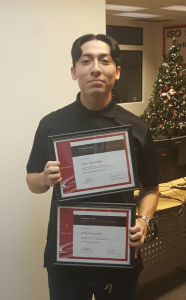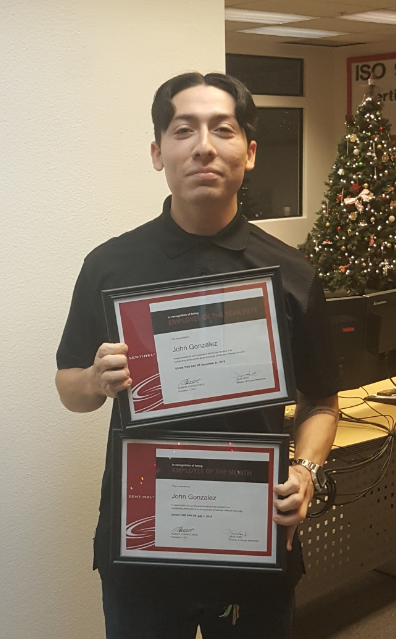 John has been with Sentinel since 2016 and recently was promoted to Floor Trainer in the National Monitoring Center. He maintained his 'regular' job while he went onsite on three occasions to support the critical pre-launch and launch of the new branch office in San Francisco, CA.  Learn more about his contributions above, as Employee of the Year-2019.
In his own words:
I love working with my hands to build, tinker and fix all sorts of stuff. I work on classic cars; my favorites are Mopars and Chevys from the '60s & '70s.  I ride my skateboard and bicycle any chance I get. I love nature and beautiful scenery, from rigid mountains to waves crashing on the beach.
Chris Moore, Installer/Equipment Technician
Las Vegas, Nevada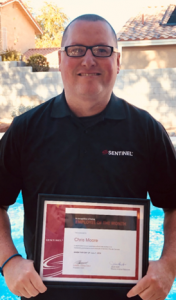 Chris has played a large role ensuring the successful first year of Sentinel's program with the Las Vegas, NV court system. He's been involved since implementation and assisted with constant evolution. He is a high performer who gets the job done, even while going solo most of the time. His customers have unique needs and preferences that can change quickly and he does what it takes to meet – and exceed – their expectations. He's built strong relationships by listening, responding with empathy and delivering solutions to challenges as they arise.
In his own words: 
I enjoy traveling with my wife and our twins. During the summer you can catch me at games rooting on my beloved Dodgers or hanging by the beach.
At Sentinel I get to help better the Las Vegas community one participant at a time, making it safer for my children and yours. 
Hailey Polonus,  Program Manager
Butte County, California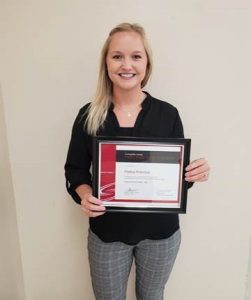 Hailey began her Sentinel career as an intern serving the Butte County Sheriff Day Reporting Center (DRC) operation.  In short order, she earned the respect of her manager, peers, and, most importantly, customer and is now the DRC Program Manager.  Early on she was faced with the challenge of recruiting two new case managers to support program participants. She managed the hiring and transition process swiftly and smoothly. Hailey exceeds customer expectations. Her primary customer contacts have expressed their high level of satisfaction with her support on several occasions.
In her own words:
"The best thing about working for Sentinel is helping people who need it the most. Helping people overcome their past traumas through the use of MRT (moral reconation therapy) training has been the most gainful part about working with this company."
Cecilia 'Ceecee' Salcido,  Training Specialist
Anaheim, California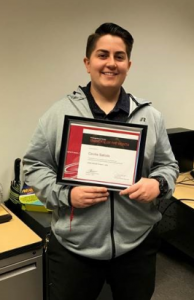 Ceecee began with Sentinel in 2014 as a Field Installer for L.A. County Probation, was promoted to Monitoring Center Supervisor and promoted again to Training Specialist in September 2018. Her experience in the field and helping clients in the Monitoring Center make her extremely valuable to clients and employees. She is at her best in the most demanding situations. Ceecee does an outstanding job with large and complex customers, where she trains groups in a professional and highly competent manner.
Outside of work you can catch Ceecee at Dodger Stadium, the beach or a coffee shop. She loves exploring new cities and cultures.
In her own words:
"I love working at Sentinel because we are in an industry where the limits are endless. I am beyond grateful to be part of an organization that gives people the opportunity to live a better life. Seeing past technology and realizing what we do and why we do it is the ultimate satisfaction."
Amy Gries,  Branch Manager
 Seattle,  Washington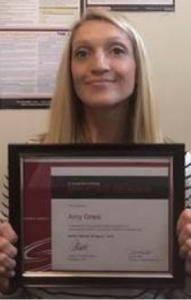 Amy began with Sentinel in 2014 as a Case Manager and was promoted to Branch Manager in June 2015. She is respected by the court and continuously offers feedback and suggestions for improving daily operations.  Her personal efforts have been instrumental in Sentinel's successful relationship with the Seattle Municipal Court.
When not at work, Amy can often be found around the house working on projects and playing with 'Pup', her three-year-old Pit bull terrier, or outside enjoying the great outdoors of the Pacific Northwest.
In her own words:
"I enjoy working at Sentinel because it can be interesting and challenging."
Megan Richards, Lead Case Manager
Tacoma, Washington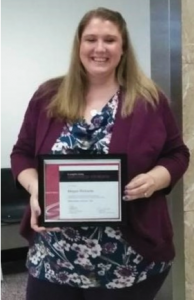 Megan began her employment with Sentinel as a Case Manager and quickly moved up to Lead Case Manager. She is well liked and respected by the Judges and Court Administrators. Megan led Sentinel's expansion efforts into District and Superior Courts and prepared our Tacoma operation for an ISO audit.
She is a diehard Seattle sports fan. The guest book at her wedding was a Seahawks jersey – which is proudly displayed at her house. She enjoys spending time with her husband and children. The couple run a support group for veterans. Their goal is to bring awareness to and help end veteran suicide.
In her own words:

"Working at Sentinel, I get to collaborate with many great people on a daily basis. I enjoy working with our participants and helping them throughout their court proceedings and building my skill set within the Criminal Justice field."
Terrell Vernor, Program Manager
Kansas Department of Corrections
Terrell has been a Program Manager since November 2016 and started with Sentinel in August 2011 as an Installer and Equipment Technician.
He is always eager to please and is known for going above and beyond for his customers. Customers love working with Terrell. He has received many letters of commendation and thanks for his exceptional services. Terrell sets high standards for his peers and all Sentinel employees to follow.
In the words of his customer:
"On more than one occasion Terrell has stepped up after hours and come to the rescue of our staff so that we can assure public safety. He works tirelessly for the citizens of the state of Kansas."